Jun 8, 2022 |
You've probably heard the term "work-life balance" before. The concept was created and widely adopted by companies under the assumption that work and life should be two separate halves that can be balanced equally through conscious attention and effort to do so. It's not a bad idea, but in modern times, it could be seen as a bit out of touch for many reasons. As we all know, work and life are simply not always equal priorities. In the wake of the Great Resignation, it's become clear that there are more complexities involved when it comes to balancing a career with one's personal life. The pandemic has shown that to thrive, employers must be flexible, adaptable, and truly invested in the needs and concerns of their employees if they want to retain their talent.
To understand the reality faced by employees and organizations alike in this modern workforce, UKG developed a concept called the Life-work Journey™. The Life-work Journey defines six stages — At Risk, Security, Growth, Self-realization, Influence, and Legacy — that reflect various experiences employees face during their lives and careers. It also defines five stages – Growth, Retraction, New Business Models, Disruption, and Revival – that business organizations go through. It's safe to say that the Life-work Journey is not linear. At its core, the Life-work Journey is only successful if organizations know their employees will provide honest, unfiltered feedback, and employees believe their employers will do the right thing.
One of the biggest obstacles organizations face while guiding employees along the Life-work Journey is owning outdated software and related technologies for HR, payroll, timekeeping, scheduling, recruiting, reporting, and other common-yet-critical workplace processes. This is where the latest technologies, tailored specifically to help employers address the complexities of the journey, can help – we call it Life-work Technology™. Combining people systems with work systems, Life-work Technology helps employees and businesses connect people to purpose, promote belonging and wellbeing, increase effectiveness and productivity, optimize teams, and more.
To illustrate the positive change and flexibility that Life-work Tech can provide, let's imagine a typical day in the life of a retail employee, Angela, who works in a gift shop downtown and is also a mother of two school-aged children.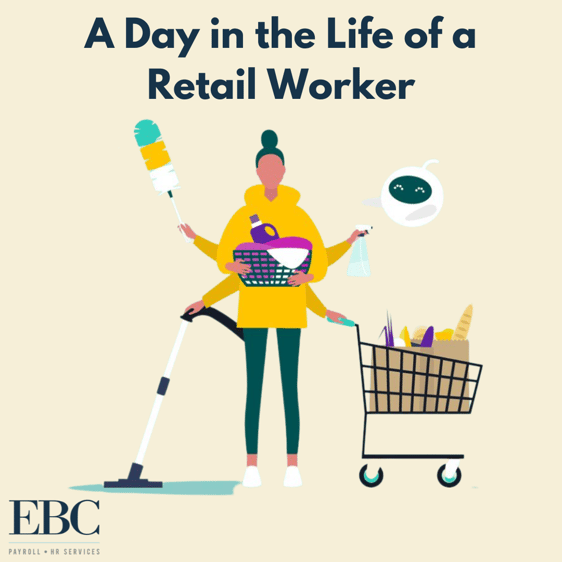 7:30 am
After making breakfast and packing lunches, Angela sees her children off to the school bus stop.

With some free time before her shift starts, she watches the morning news and freshens up while checking her schedule for the rest of the week which was generated through the UKG system, taking shift availability, demand forecast, and work preferences into account (for example, working around her children's school schedules).
8:45 am
Angela arrives at work and clocks in using her UKG mobile app, which recognizes that she has arrived in the building.

She must answer a few questions to verify her health status before starting her shift. She goes through the checkpoint questions, acknowledges she is feeling well, and is cleared to work.

Her manager holds a pre-shift meeting to discuss the day's goals, review promotions, go over the tasks assigned to the employees, recap yesterday's successes, and to emphasize customer service during curbside pick-ups.
9:00 am
The store opens, and the employees begin completing the day's tasks that were assigned to them through the UKG app on their mobile devices before customers start arriving and needing assistance.
10:00 am
Angela assists a customer looking for a gift for a friend's birthday.

She is able to help the customer find the perfect gift, and the customer tells the employee they're going to leave a great review for the store online due to the positive experience and interaction.
11:00 am
While working the floor, Angela receives an alert through her UKG mobile app that another employee is requesting her to cover a shift next week.

She is available to work the shift and picks it up within minutes.

Angela completes one of her assigned tasks of picking, pulling, and packing a buy online, pickup in store (BOPIS) order, and closes out the assignment on her mobile device.
12:00 pm
Angela heads to the breakroom for lunch. She clocks out for her meal break using the store iPad.

After fifteen minutes, she tries to clock back in on the timeclock in the break area but is alerted that she must take her full thirty-minute break. She goes next door to buy a coffee with the spare time.
12:30 pm
Angela clocks back in and heads back out onto the floor.
1:00 pm
During a lull in customer foot traffic, Angela has a conversation with her manager about career development opportunities.

Her manager records the request in the UKG system so they can discuss at the next touch-base meeting and directs her to a specific learning module that she can get started on in the meantime.
2:00 pm
The manager assigns another task to Angela through the app, asking her to help process inventory of a new shipment in the back.
3:00 pm
At the end of her shift that day, Angela takes a survey on her mobile app where she can provide open-ended responses and insights.

She receives a reminder that she must acknowledge a document regarding a new store policy in the system, which she is able to do from her mobile device.

Angela clocks out on her app, says goodbye to her coworkers, and heads out to pick up her children from school.
In just one day, Angela has successfully chosen her own schedule based around personal preferences and outside-of-work commitments, started a conversation about career progression, instantly added funds to her account, and more – all from the palm of her hand.
Studies have shown that nearly 50% of employees might leave their jobs if their employers do not provide flexible work options post-pandemic. This statistic makes it hard to ignore the fact that modernizing technology for employees is a major factor when it comes to retaining talent and keeping employees engaged. With Life-work Technology, we recognize that life and work are always going to be intertwined. These tools deliver on EBC's promise to connect people and technology in the ways that truly help employers guide and support every individual employee along their personal Life-work Journey.
Learn more about how implementing Life-work Technology can improve your business here.
---
Having EBC HR & Payroll Solutions, Inc. on your team allows you to move forward with confidence, knowing that we're doing right by your employees, doing right by you, and it's all being done in accordance with all the latest rules, regulations, and laws. Our philosophy is to provide a comprehensive, wide range of services to all our clients.
For more information regarding Tax/Banking and Payroll Services provided by EBC, please reach out to Mark Terry, Business Development Consultant at 716.998.4404 or mterry@ebchcm.com and/or Charles Bagley, Sr. Human Capital Management Business Consultant at 716.574.9947 or cbagley@ebchcm.com
Source: UKG Blog